10 Interesting Facts About The Band 'Queen'
Queen band is a rock band which was formed in 1970 in England. Within ten years Queen gathered huge popularity and became one of the biggest stadium rock bands in the world. In the year 2001, Queen became a member of Rock and Roll Hall of Fame. Let's know some more interesting facts about Queen Band.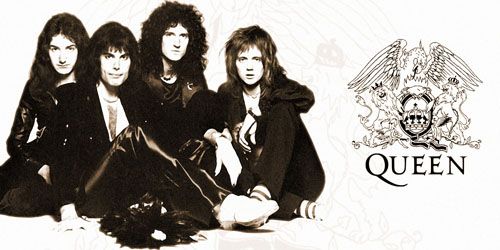 1. Not all artists are drop-outs
People often think that rock stars dedicate their whole life to music and hence are not much good in studies. A big blow to such misconception is the Queen Band. Except Freddie Mercury, every other band member has a post graduate degree. So, the Queen is actually pretty smart. It's ok Freddi, that is not why they made you the lead singer; you are actually good! A degree doesn't make you smarter, but educated.
Source: pvenue.com
2. Freddie Mercury aka Farrokh Bulsara
When Freddie Mercury was born, he was named Farrokh Bulsara as he belonged to an Indian family from Gujarat. But later when he was studying in a boarding school, he adopted the name Freddie Mercury. Strangely his name in the passport is Fredrick Mercury. Again Freddie, "what's in a name." Did you even read Shakespear ? What's there in it anyway.. ahemm..
Source: nme.com
3. Freddie himself had designed the Queen's emblem
Freddie Mercury had designed the famous emblem of 'Queen' himself. His degree in art and graphic helped him to design this beautiful emblem. Even though he had claimed that he does not believe in anything related to astrology, yet his emblem consists of a Western star sign of the four members of the band.
4. "I want it all" inspired by Brian's wife
Brian May had claimed that the main inspiration behind the song "I want it all" was his wife Anita Dobson. He got the idea when his wife said I want it all and I want it now!
Source: metro.co.uk
5. The accidental invention of stand-free mic 
In the early days of Queen's show, the microphone stand of Freddie Mercury broke. But instead of finding a new stand, he held the stub of the stand containing the microphone and kept singing. This gave him a new idea and soon he started to use his new prop in various shows while roaming around the stage. Since then many other singers have incorporated the accidental invention of Mercury in their shows. One for Freddie!! Yay my man! An invention ? Wow! Accidental though :p straight outta heart!
Source: yahoo.com
6. John Deacon is much more than a bassist
No one needs any introduction to the way John Deacon plays his bass guitar. But very few people know that he is actually a trained electronics engineer. Most of the equipment that the band uses is built by John Deacon himself. One of the most famous invention of John Deacon is the Deacy Amp.
Source: gigwise.com
7. "I like to ride my bicycle" but Freddie didn't like to ride bicycle!
Quite contrary to the lyrics of the song "Bicycle Race", Freddie Mercury didn't like riding bicycle. In the same song there is a line "I don't like Star Wars". Reality was quite the opposite as guitarist Brian May pointed out later that Freddie Mercury liked Star Wars a lot.
Source: huffingtonpost.com
8. A song composed in bath
Do you know that the song "Crazy little thing called love" was composed in a bath? And guess what? It was composed by Freddie Mercury himself. Freddie was actually in a hotel and while bathing in a tub he got inspired for this song. He even had the piano brought near his tub so that he can compose the song. Thank God, he didn't get out of the tub screaming Eureka! What ?
Source: ibtimes.co.uk
9.  Queen honored by England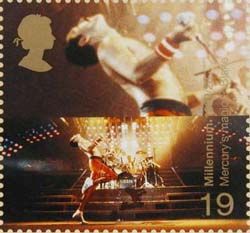 Queen Elizabeth is always honored but right now, we are talking about the band Queen. In 1999, England honored the Queen band by releasing a postage stamp commemorating Freddie Mercury. But this stamp created unpleasantness among the royal family as the photo chosen for the stamp had Roger Taylor in background. According to British tradition, the only living people who can appear on their stamps are the member of Royal Family. You got it all going right Freddie, even though you don't have a degree:p
Image: postalheritage.wordpress.com
10. Brian May's handmade guitar
Brian May's famous guitar which he fondly calls "Red Special" or "Old Lady" is actually handmade. It was made by May himself and his father. The interesting thing about the guitar is that the wood used for making it is actually taken from a two hundred year old wooden mantelpiece. Wow!